A Late goal from David Williams helped ATK Mohun Bagan beat Chennaiyin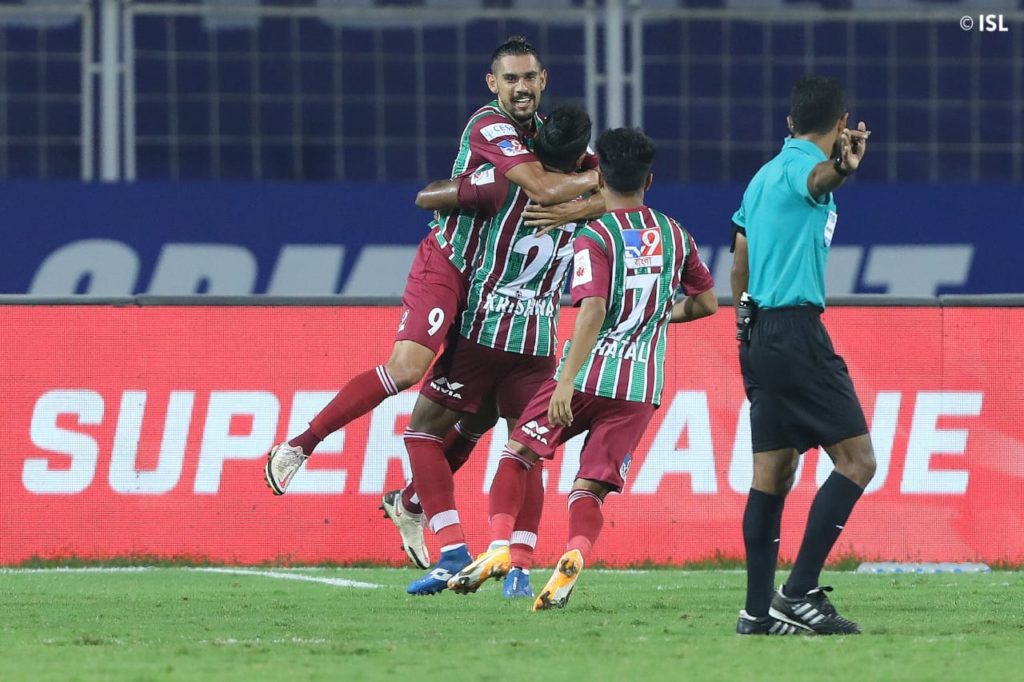 David Williams after his goal. (Picture Courtesy – ISL Media)
XtraTime Web Desk – Amidst all the protests by the fans, the players did their job and picked up three crucial points against Chennaiyin FC.
ATK Mohun Bagan kept it late and once again it worked for them. David Williams scored in the 91st minute to bring home all the glory.
The start was different though. Both the teams were struggling but ATK Mohun Bagan got control of the match. Manvir Singh and Roy Krishna made a strong bond upfront but Roy Krishna kept his shooting boot at home as whatever Krishna striked didn't seem to put Chennaiyin into any kind of trouble.
Vishal Kaith denied Javi Hernandez's sweet volley in the 21st minute. Even though it was close to his body, Vishal brilliantly managed to keep out. The match was mostly played in the midfield but ATK Mohun Bagan were shooting with the hope of scoring one but again, they missed their shooting boot. Chennai did manage to trouble Mariners but just like most matches, ATK Mohun Bagan's defense was tight and didn't commit any mistake.
ATK Mohun Bagan kept majority of the possession in the second half. Chennaiyin however started strong. They showed that intent but Arindam Bhattacharya rescued in the first place and then Sandesh Jhingan did his job.
David Williams came as the substitute in the 67th minute to replace Carl Mchugh as ATK Mohun Bagan looked desperate to score a goal. They created a lot of chances in the last 15 minutes. Vishal Kaith brilliantly kept Javi Hernandez's free-kick out of danger but ATK Mohun Bagan didn't back out from any challenge.
ATK Mohun Bagan finally got their goal in the 91st minute as David Williams scored from a brilliant header. No one marked Williams when Javi put the ball from a corner and that sealed the deal for ATK Mohun Bagan. Chennaiyin tried hard in the dying minutes. They were very close to score an equaliser in the 94th minute but Tiri made a goal clearance to keep ATK Mohun Bagan's lead intact.
ATK Mohun Bagan are 2nd in the table with 24 points from 12 games while Chennaiyin FC has 15 points from 13 games and are currently at 6th in the table.
The post first appeared on .