HarmonyOS 2.0 beta now available for Huawei P30 and Mate 30 Pro 5G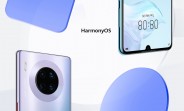 Beta versions of HarmonyOS 2.0 have started rolling out to more devices, including the Huawei P30 and Mate 30 Pro 5G. You can see it running on real hardware in the videos below.

Finally... A video of #HarmonyOS Beta 1 on #Huawei Mate 30 with #EMUI11 on top.There is not so much to see. Apart from how Android apps are fluid. I doubt that they are native apps.However, what could make Harmony OS so fast to running android apps? Can't wait to discover :) pic.twitter.com/yyiVbHztza— Marco Improda (@marcoimproda90) January 21, 2021

If the interface looks familiar, this is because it's EMUI...