Samsung Galaxy S21 Plus vs Galaxy S21 Ultra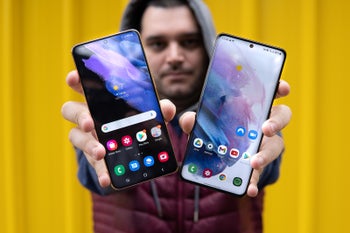 The siblings rivalry is in full swing over at Samsung, as the middle child last year proved surprisingly popular after the series' launch, when all eyes were on the Ultra and base models.
With the , however, Samsung has done one better, as it made the phones more distinct when it comes to looks and specs, somewhat relieving us from the tough choices we had to make based on price. Here are the main vs differences:
6.8" LTPO curved with S Pen support vs 6.7" flat displayDynamic 120Hz@1440p vs 120Hz@1080p refresh rates5000mAh vs 4800mAh ...