OFFICIAL: A Large Audience Set to Turn Up for French Open 2021
After much speculation around crowd attendance in the middle of a pandemic, it is now official! The French Open 2021 will have spectators.
The French Tennis Federation, the organizers of the event, will allow up to 5,388 spectators per day during the tournament. This event has already been delayed by a week due to the pandemic,
Start of the French Open this year was delayed by a week
Gilles Moretton, president, French Tennis Federation, said the decision to delay the start of the French Open by a week has paid rich dividends as it will not only allow them to let more spectators in but also guarantee the health of all the stakeholders, including players.
"We were rewarded for the choice we made to postpone the Roland-Garros tournament by a week. We had two objectives — as many spectators as possible, and the guarantee of health security," Moretton said.
Though the organizers would allow a little over 5,000 spectators at the start of the Grand Slam, there's a word on bigger crowds, even in excess of 13,000, being allowed towards the business-end of the tournament.
Rafael Nadal of Spain hugs the Musketeers' Cup as he celebrates victory following the mens singles final against Dominic Thiem of Austria during day fifteen of the 2018 French Open at Roland Garros on June 10, 2018 in Paris, France. (Photo by Clive Brunskill/Getty Images)
FFT president says a lot of effort has gone in to host a great event
Moretton said the Federation has put in a lot of work to host a successful event and ensure that the Slam, which sustains French tennis, remains undiminished in its scale and splendor.
"We have put a lot of energy into it at the FFT. Roland-Garros is a great tournament and the economic lung of French Tennis. Roland-Garros benefits our clubs, departmental committees and leagues," the president of the Federation .
According to Amelie Oudea-Castera, the executive director of the FFT, the organizers have planned to accommodate up to 5,388 spectators across tennis grounds at the venue in initial days.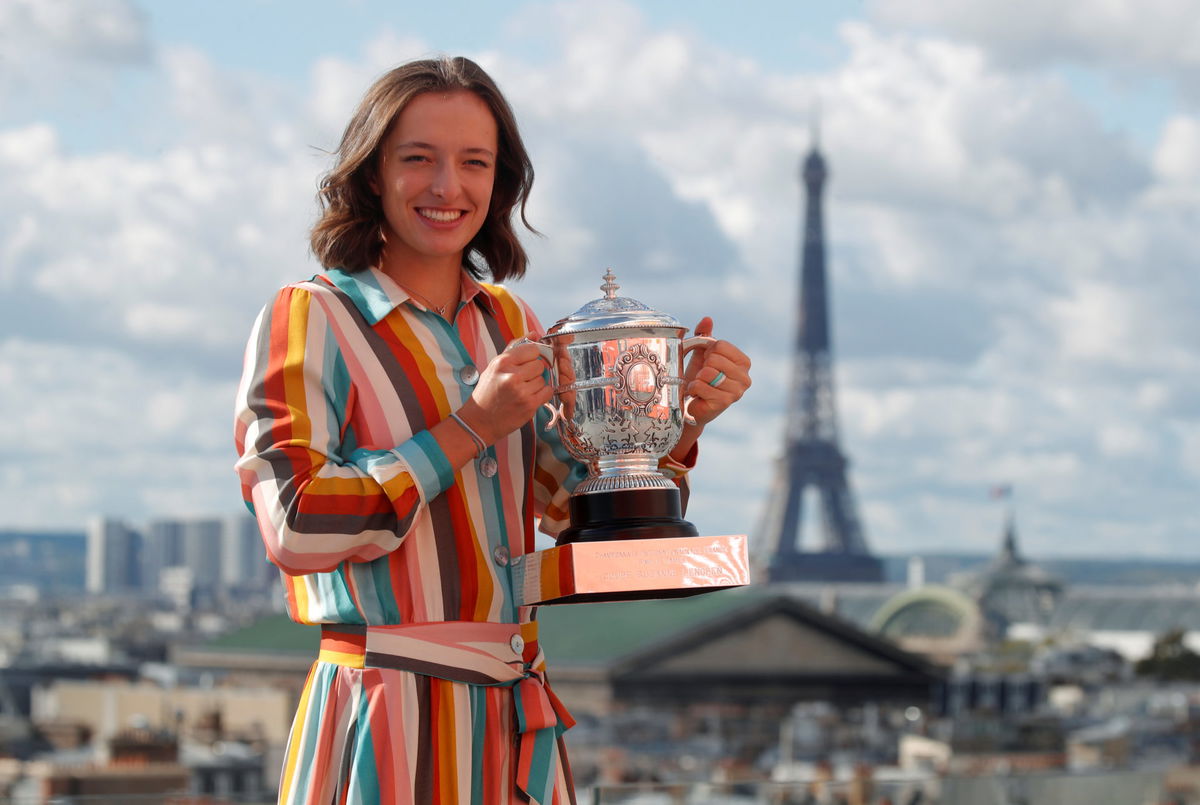 Tennis – French Open – Galeries Lafayette Rooftop, Paris, France – Poland's Iga Swiatek poses with the trophy after winning the French Open yesterday REUTERS/Charles Platiau TPX IMAGES OF THE DAY
However, the numbers are expected to swell to 13,146 from June 9. But no more than 1,000 spectators will be allowed at each Outdoor Public Receiving Establishment.
Moreover, up to 5,000 spectators will be in attendance at the Philippe-Chatrier stadium during the men's and women's finals on June 12 and 13 and another 5,000 would be catching the action live on the big screen on Court Suzanne-Lenglen.
Read More:
and will defend their men's and women's titles at the this year.
The post appeared first on .