Zola
In 27 October, 2015, Aziah "@_zolarmoon" Wells told a story. Over the course of 144 tweets, she detailed a falling out between herself and a woman named Jessica during a last-minute road trip from Detroit to Florida. Choice details included a Nigerian pimp, an emotionally unstable boyfriend, and insights into the reality of modern sex trafficking.
Twitter was never the same after that, and neither was Aziah, who found herself thrown into the spotlight. A profile in Rolling Stone followed, which A24 swiftly bought the rights to and optioned for a film. But how does one turn a mammoth Tweet session into an actual movie?
The canny folk at A24 turned to director Janicza Bravo to helm the project, and she brought in dramatic wunderkind Jeremy O Harris, recently the toast of Broadway for his divisive, searing theatrical piece on sexual politics between interracial couples, 'Slave Play'. Tapped into the kind of internet language and culture which captured the world's imagination back in 2015, Harris wrote the screenplay with Bravo, and then came the impressive cast: Taylour Paige as Zola and Riley Keough as "this bitch" Stefanie (a stand-in for Jessica). They're joined by Succession's Nicholas Braun as Stefanie's long-suffering boyfriend Derek, and Colman Domingo as her menacing roommate/pimp, Z.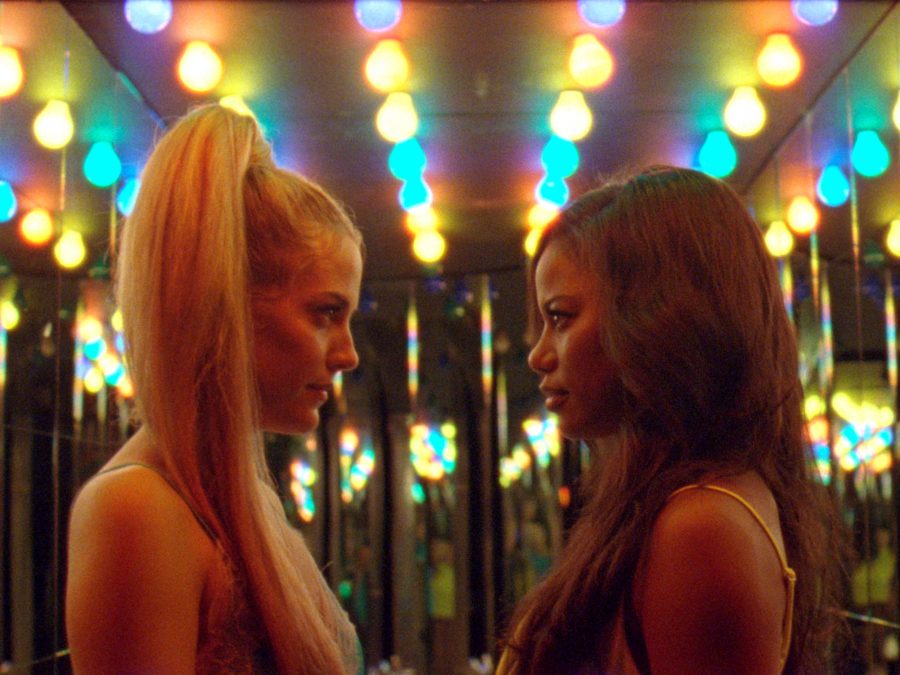 Zola wouldn't work without such a great ensemble; much like the internet phenomenon it stems from, the magic is in the delivery. Paige is a fantastic anchor for the insanity that ensues, providing a masterclass in saying absolutely everything with just a sideways glance or baffled stare. Keough, as the extremely messy Stefanie, is a fast-talking, AAVE-abusing sex worker who has little concern for the friend she's inadvertently involved in her carnage, much less her doting boyfriend who's begging her to stop selling herself.
Braun, who is best known as the awkward, wide-eyed sweetheart Cousin Greg in HBO's Succession, executes some excellent physical comedy as Stefanie's bumbling beau Derek, while Domingo is wonderfully unhinged as the terrifying Z, who refuses to let Zola cash out and get far away from Florida.
A lot happens over the course of 90 minutes, and Bravo and Harris parlay the wonderfully energetic pace of Wells' original writing into a coherent script. Ari Wegner and Mica Levi on DoP and score duties respectively also deserve a shout-out, adding eye-watering fluorescents and fairy tale harps to heighten the drama. The only real failure is the decision to change the endpoint of the story; the original closing tweet was punchier, and the alteration bears too much of a similarity to the conclusion of Harmony Korine's .
But there's a lot to admire about Zola all the same – it's a frank and extremely funny account of one wild weekend, approaching sex trafficking in a bold new way as well as examining the racial tension between Zola and Stefanie. The appropriation of Black culture by white characters in the film is obvious and uncomfortable but undeniably honest; there are so many women like Stefanie and men like Derek.
Yet for all the fun and wild characters, it's a sad story too, demonstrating the ways women are abused and beaten down by men to the point they don't see any way out of the cycle, as well as how terrifying it can be to just exist as a woman today – let alone as a Black woman, a sex worker, or both. There's an undeniable seediness to Zola, but also a great deal of empathy. As a contemporary fable about female relationships, it works extremely well.
Little White Lies is committed to championing great movies and the talented people who make them. But to keep going, and growing, we need your support. .
---

ANTICIPATION.


Twitter history writ large with an impressive cast.
4


ENJOYMENT.


Frantic, funny storytelling, but Bravo's deft hand prevents mockery.
4


IN RETROSPECT.



An engrossing internet age fable from a filmmaker who's going places.
4

---

Directed by




Janicza Bravo



Starring




Riley Keough,

Taylour Paige,

Colman Domingo


The post appeared first on .