Love Island USA: Former Islanders React To Josh & Shannon's Departure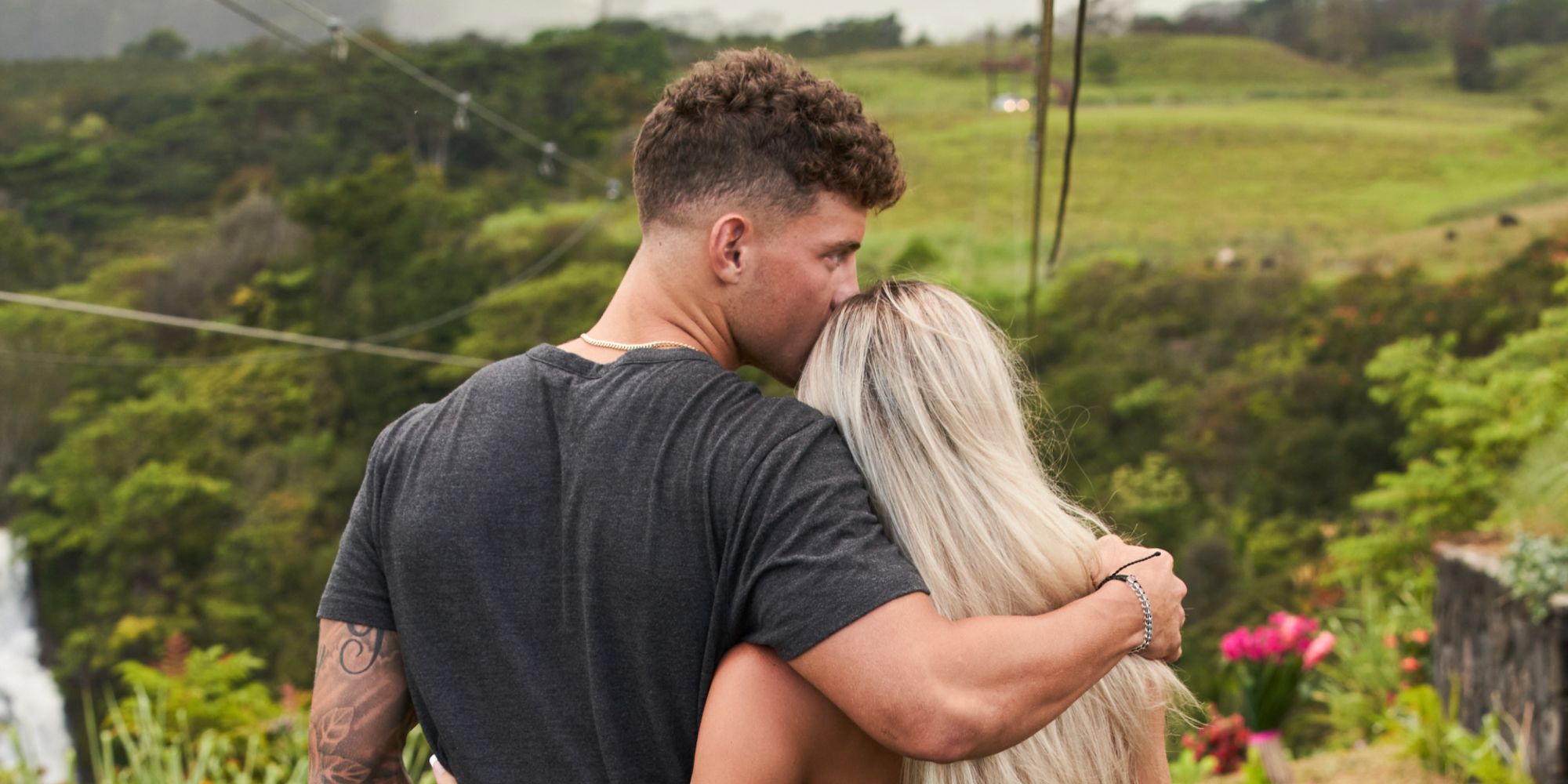 Former islanders have taken social media to send Josh Goldstein and Shannon St Claire some love after their shocking self-elimination on  season 3. Josh and Shannon were OG islanders introduced to the fans on day one of season 3. In hindsight, it is also special how they gravitated toward each other right away and coupled up just based on first impressions. Most day-one coupled don't end up lasting, but Shannon and Josh were in it for the long haul.
Unfortunately,  featured Josh Goldstein finding out that his sister had passed away. Josh obviously decided to leave the show to be with his family at this time, and Shannon St Claire chose to leave alongside her new boyfriend. All the season 3 islanders were shocked and devastated upon hearing the news, and also felt sad about Josh & Shannon suddenly exiting the show.
Related: 
Now, to the news and are sending Josh & Shannon some love through social media. As seen in the many screenshots included below, quite a few Love Island alumni have sent their condolences to Josh, his family, and Shannon. Genevieve Shawcross shared a picture of her hugging Shannon and saying, "I love you so much." Cinco wrote, "Praying for you Josh and the whole Goldstein family." In turn, Leslie Golden said, "If you have a minute, send a prayer to our Love Island family today." Season 2 stars have also shown their love on social media. Bennett Sipes wrote, "Thoughts and prayers with you and the family." Mackenzie Dipman said, "Sending all the [love]." Carrington Rodriguez wrote, "Everyone go send love to [Josh] right now."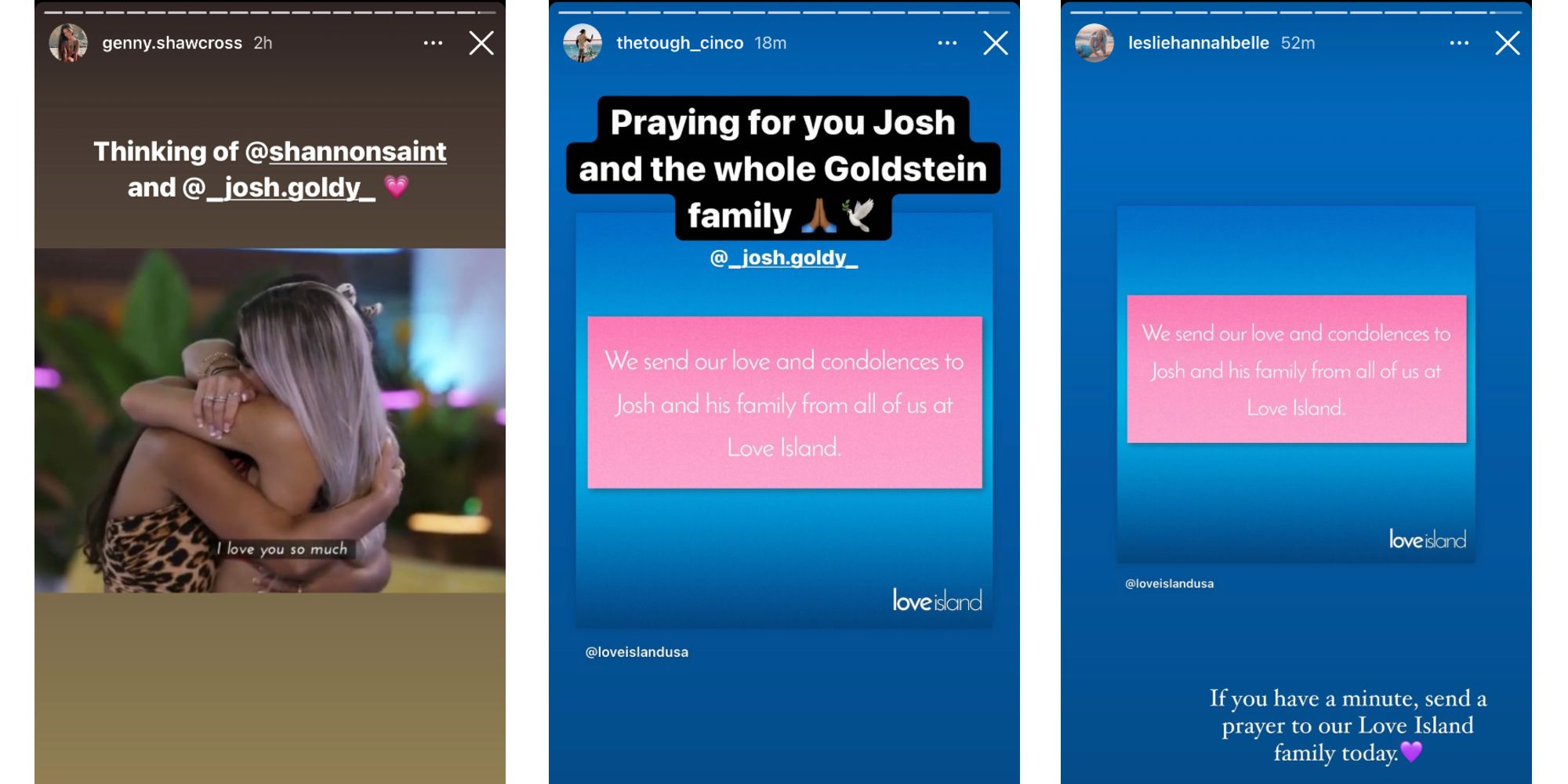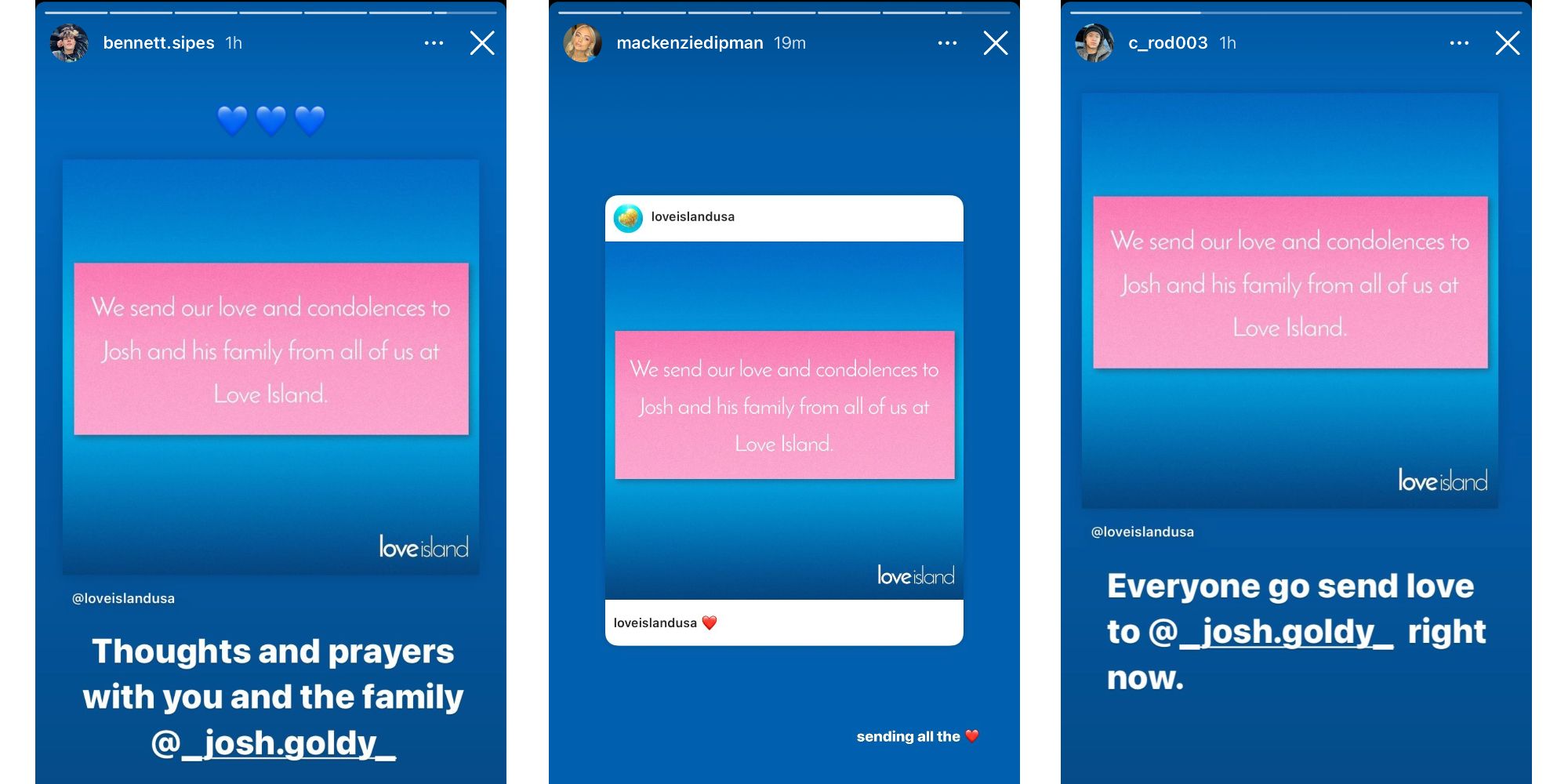 The outpouring of love for Josh and Shannon after  didn't end there. As seen in the screenshots below, Andrew Phillips shared a praying emoji to symbolize his condolences. Kay Taylor said, "Wow sending love to Josh and his family." Isaiah Harmison shared, "My heart hurts. Sending prayers your way." Kam Mickens-Bennett wrote, "Sending my condolences to Josh & his family." Christian Longnecker said, "Prayers out to [Josh] and his entire family. Love ya man." Moreover, Isabel Johnson shared, "Sending all my love and prayers to Josh and his family right now."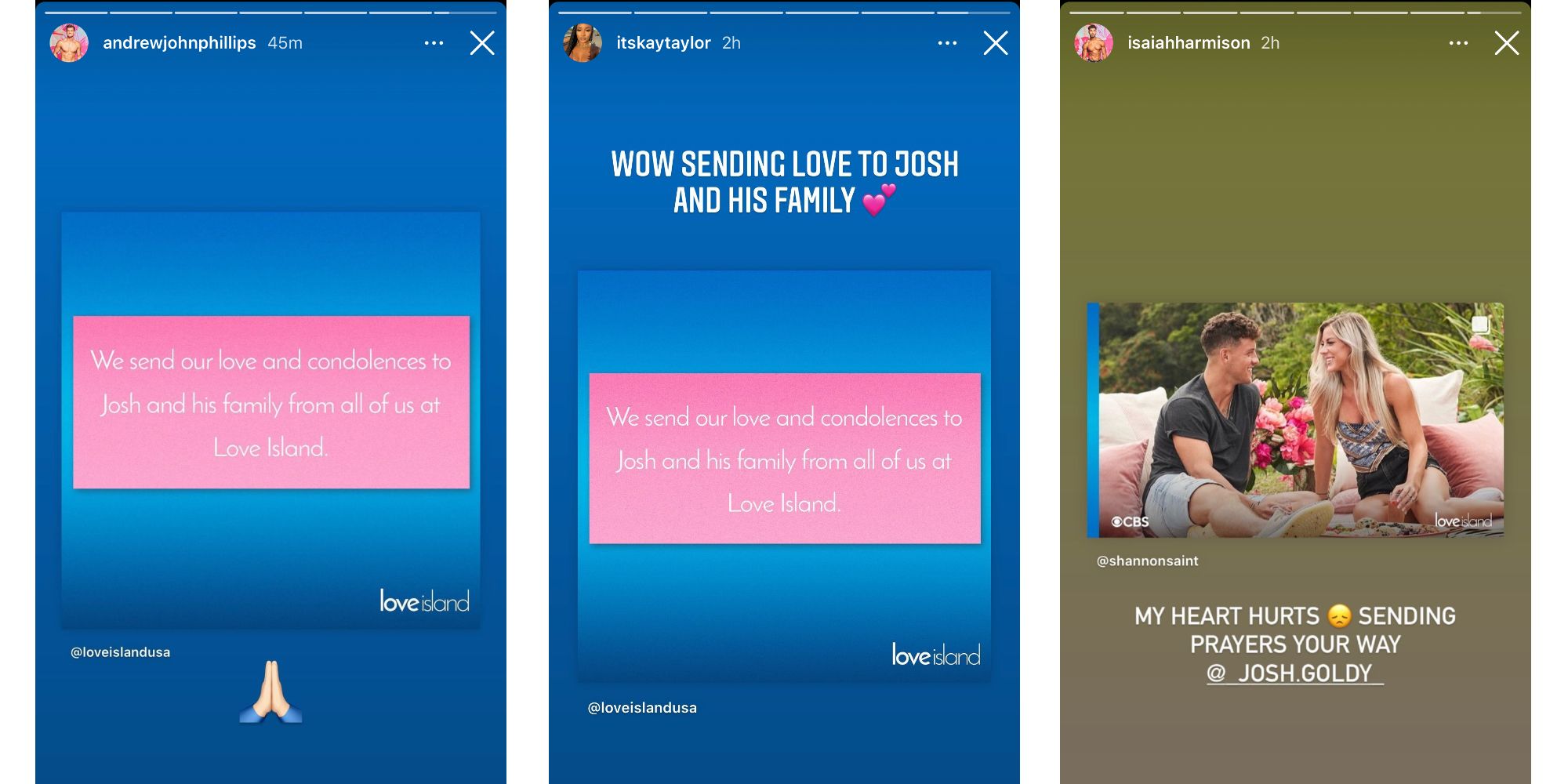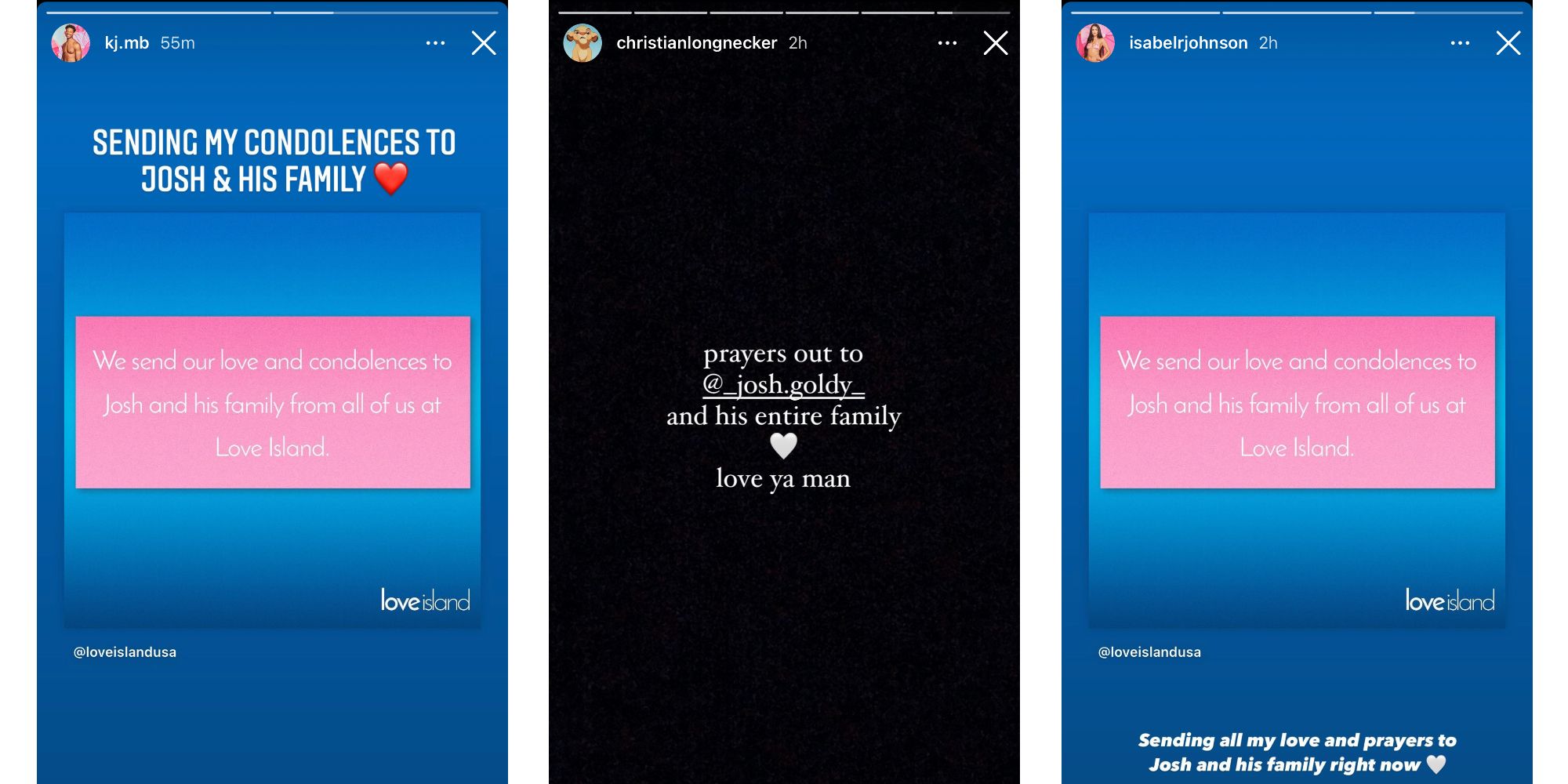 Slade Parker also due to issues with his family. He wrote on Instagram, "Always here for you bro. Sending my love & prayers." Season 1 stars Elizabeth Weber and Alexandra Stewart shared their joint statement via the official After The Island page: "We are sending unconditional love, support, and prayers to Josh, Shannon, and the entire Goldstein family." Meanwhile, Roxy Ahmad said, "Sending all my love to these beautiful souls."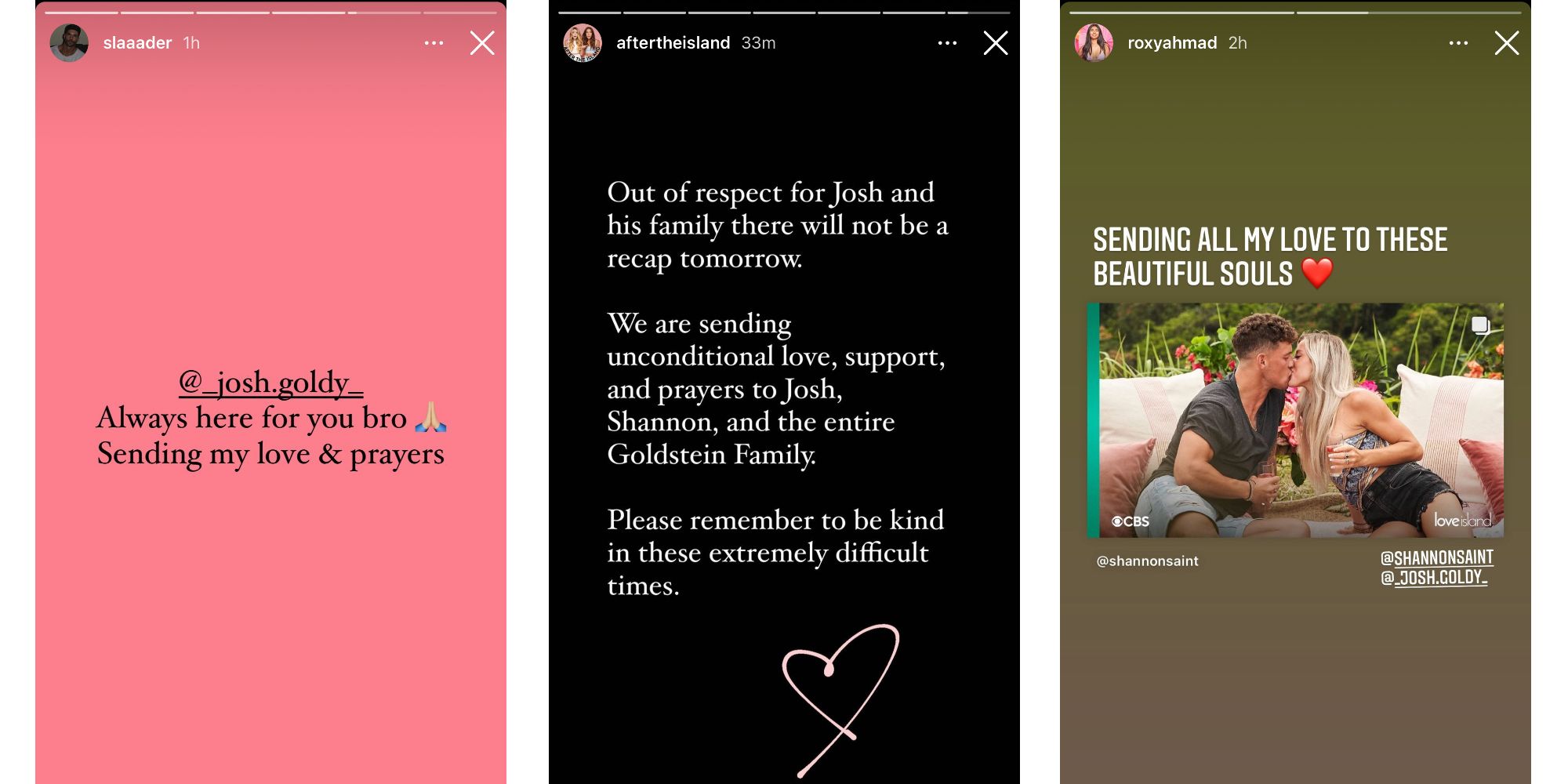 The fans should respect Josh and his family's privacy while they grieve this tragic loss. Love Island is a show that must go on, but unfortunately this was the end of Josh and Shannon's journey in the season.
More: 
Love Island USA season 3 airs Tuesdays, Wednesdays, Thursdays, Fridays, and Sundays at 9pm ET/PT on CBS.