With drones constantly improving and their wide range of uses across different industries, it was only a matter of time until the need for a waterproof drone become apparent. That's why we're going to go over the 5 best waterproof drones that you can currently buy.
We've put together a list of the 5 waterproof drones, ranging from cheap waterproof for beginners all the way to high-end professional level drones for you to decide from.
For anyone who has a drone, you probably know that water is a detrimental element that can completely ruin a . We all live in fear that the heavens will open and rain down upon us whilst we're flying our drones, only to see our precious copter helplessly fall from the sky never to be used again.
Now before we begin, it's important to understand the difference between waterproof and water-resistant drones.
Water-Resistant
Water-resistant drones are designed to be able to survive in mildly wet situations, for example, light rain, snow, and perhaps splashes from waves. The drones themselves are not impenetrable to water and if submerged completely, will break.
Waterproof
Waterproof drones are able to withstand being entirely underwater, without sustaining any damage or breaking. These drones are usually sealed completely tight and are impenetrable water, however, they usually cost significantly more than their water-resistant counterparts.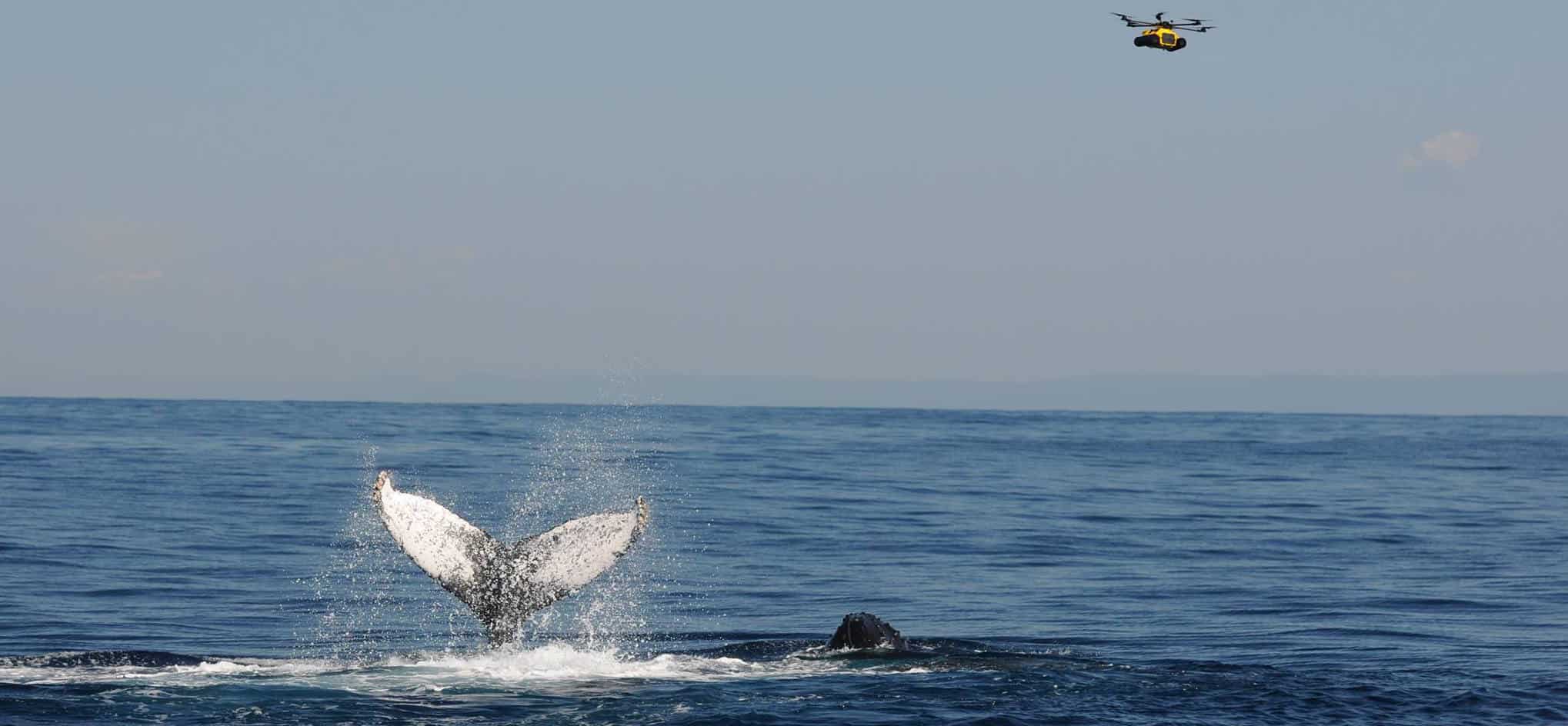 ---
Waterproof Drone Uses
Before we jump into our list of best waterproof drones, we thought we'd highlight some different uses and situations where waterproof quadcopters would come in handy.
Waterproof Drones For Fishing
With more and more drone and fishing enthusiasts hooking up their drones with fishing lines, it only makes sense that the quadcopter they're using is waterproof. Not only is the drone able to send the line out, but it can also be used to film their catch.
Waterproof Drones For Sailing
What better way to capture your voyage than from the skies? Drones allow almost anyone to film some extremely beautiful and cinematic footage, so when you're next out sailing and want to capture the moment, a waterproof drone is a must.
Waterproof Drones For Surfing
Waterproof drones offer a completely new way to film surfing. You can now film closer than ever before, tracking your subject as they ride the wave makes for some seriously impressive footage.
Surf competitions have already taken to this method of filming and with the rising number of waterproof drones, anyone can join them.
Best Waterproof Drones List
SplashDrone 3+
Specs:
Drone Weight: 1447g (without battery)


Flight time: 20 ~ 23 minutes


Max distance: 1.6km


Aircraft - Remote Controller - Drone Battery - Controller Battery - Balance Charger - Balance Charger Cable - Propellers - Battery Charger Cable - Landing Gears - Accessories Package - Carry Case - Swellpro 3 Month Limited Warranty on Battery with Less than 200 Charge Cycles - 6 Month Limited Warranty on Battery Charger - 1 Year Limited Warranty on Aircraft and Remote Controller - Camera NOT Included
Enhanced waterproofing throughout
Extended flight time up to 25 minutes
Smooth+ remote controls
Power-Flip function when floating
The SplashDrone3+ is a fantastic drone released by the relatively unknown . The drone is able to float along the surface of the water, allowing the user to capture footage both under and above water.
The drone can be implemented in a vast array of situations, from fishing to water rescue, the SwellPro is a versatile and well-built quadcopter designed to perform in extremely wet environments.
One feature that makes this drone unique is its payload release system.
This means that the SplashDrone3+ is able to carry a load of up to 1kg and release it up to 1.6km away from the pilot.
This allows the SwellPro to be utilized in fishing to cast the line and also in rescue situations where rescuers are unable to reach a location.
Aircraft - Remote Controller - Drone Battery - Controller Battery - Balance Charger - Balance Charger Cable - Propellers - Battery Charger Cable - Landing Gears - Accessories Package - Carry Case - Swellpro 3 Month Limited Warranty on Battery with Less than 200 Charge Cycles - 6 Month Limited Warranty on Battery Charger - 1 Year Limited Warranty on Aircraft and Remote Controller - Camera NOT Included
Enhanced waterproofing throughout
Extended flight time up to 25 minutes
Smooth+ remote controls
Power-Flip function when floating
One of the SplashDrone3+'s most impressive features is its completely waterproof motorized gimbal that allows the camera to move smoothly both in the air and underwater. The gimbal is also coated in order to resist corrosion from exposure to saltwater. However, it is important to know that "Base Platform" does not come with the camera. They do have a package that comes with the 4k Camera and 3 Axis Gimbal.
Tough & Waterproof The SplashDrone 3+ fuselage is made from durable 3mm reinforced ABS to ensure a perfect waterproof seal. Each drone undergoes at least two pressure tests during production for 100% waterproofness. All parts, both inside and out, are corrosion resistant and designed for use in marine environments. New access hatch lid with air pressure equalization allows altimeter accuracy without permitting water entry.
Powerful Propulsion System The new S3 flight controller, integrated with new sensors and a powerful propulsion system, allows for greater sensitivity and more accuracy than ever. This means you can fly your Splash Drone 3+ safely and smoothly with more confidence on water, in rain and snow.
S3 Flight Controller The S3 constantly checks for errors and offers redundancy to improve flight stability. The dual-mode GPS locks onto up to 24 satellites from the GPS and GLONASS systems for improved accuracy and speed of positioning.
Quick-Fit Propellers Redesigned carbon-fibre propellers are light and stiff to efficiently transform the motors' power into thrust. A new quick-fit design enables fast and secure attachment of the propellers to the motors.
The return policy on this item is 14 days.
The flight time and the max distance of the SplashDrone3+ cement its position amongst professional-level . A very reasonable flight time of 20 minutes and a maximum range of 1.6km allows the pilot plenty of freedom when flying, as space and time aren't an issue.
Although a professional-level drone, the SwellPros features allow it to be flown comfortably and safely by a beginner.
Furthermore, one tap returns to home, auto-land & take-off and low battery alert functions take some of the most difficult aspects of flying a drone out of the pilots' hands.
These features can be used until you master them yourself, or like me are too lazy to do it.
The SplashDrone3+ Auto's also comes with a brand new controller with a built-in FPV screen that displays real-time footage from the drone's camera.
The drone's robust and sturdy build means that it's long-lasting and always reliable come rain or shine.
It comes as no surprise that professionals around the world are using this drone to cinematically film marine life. The Splash Drone Auto is undoubtedly one of the best waterproof drones on the market today.
?2.) JJRC H31
Specs:
Flight time: 7 Minutes


Max distance: 70 meters


Camera: 2MP


Charge Time: 60 minutes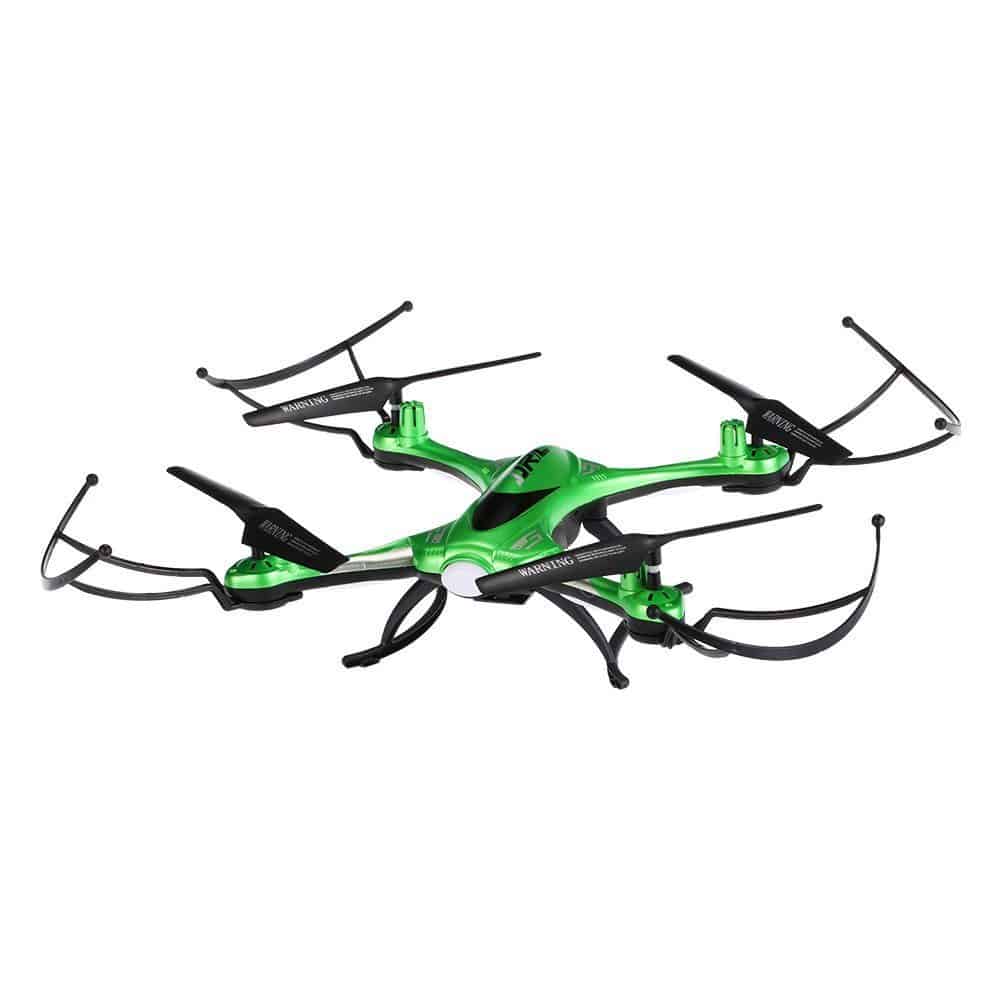 JJRC are a well-known and reliable manufacturer of quad copters, boasting an array of high quality drones. The H31 is a fantastic beginner level waterproof drone at an affordable price.
Although advertised as waterproof, I would suggest not completely submerging the drone as I have heard that it can break. But, you can?t ask for too much at that price range and considering that it?s water resistant, is still great value for money.
The H31 also possesses some great features that make it one of the best waterproof drones for beginners. A 7-minute flight time and a range of 70m are extremely respectable stats for this level of drone. It also has a 2MP camera with filming capabilities, however the camera isn?t the best, which is to be expected are this sort of budget.
One-tap return to home function allows beginners the comfort that the drone can bring itself back to its take off position safely. To further help beginners, the allows for the pilot to overcome the loss of orientation problems that can occur.
The H31?s 6-axis gyro-stabilization allows for an extremely controlled and safe flight.
With 2 different colour led lights positioned on the drones? rotor arms, night flights are possible with the H31.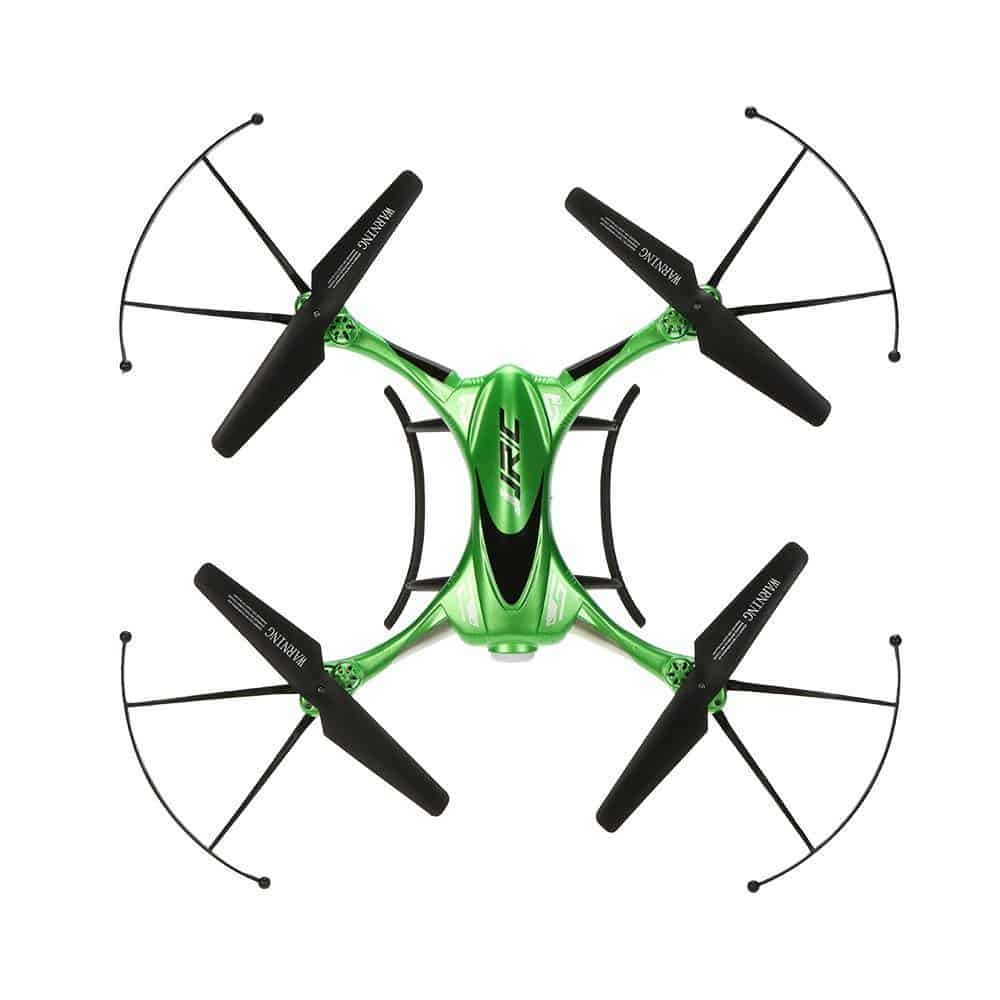 To top all this off, the H31 provides an extremely exhilarating flight. Its agile movements and one key 360 flips make this a fun waterproof drone for beginners.
Overall, the JJRC H31 is a great waterproof drone designed for beginners looking for a fun flight over water. At a great price and with some respectable features and H31 has to be on our list of the 5 best waterproof drones.
?3.) Parrot Hydrofoil Mini Drone
Specs:
Flight time: 7 minutes


Max distance: 20 meters


Camera: No camera


Charge Time: 25 minutes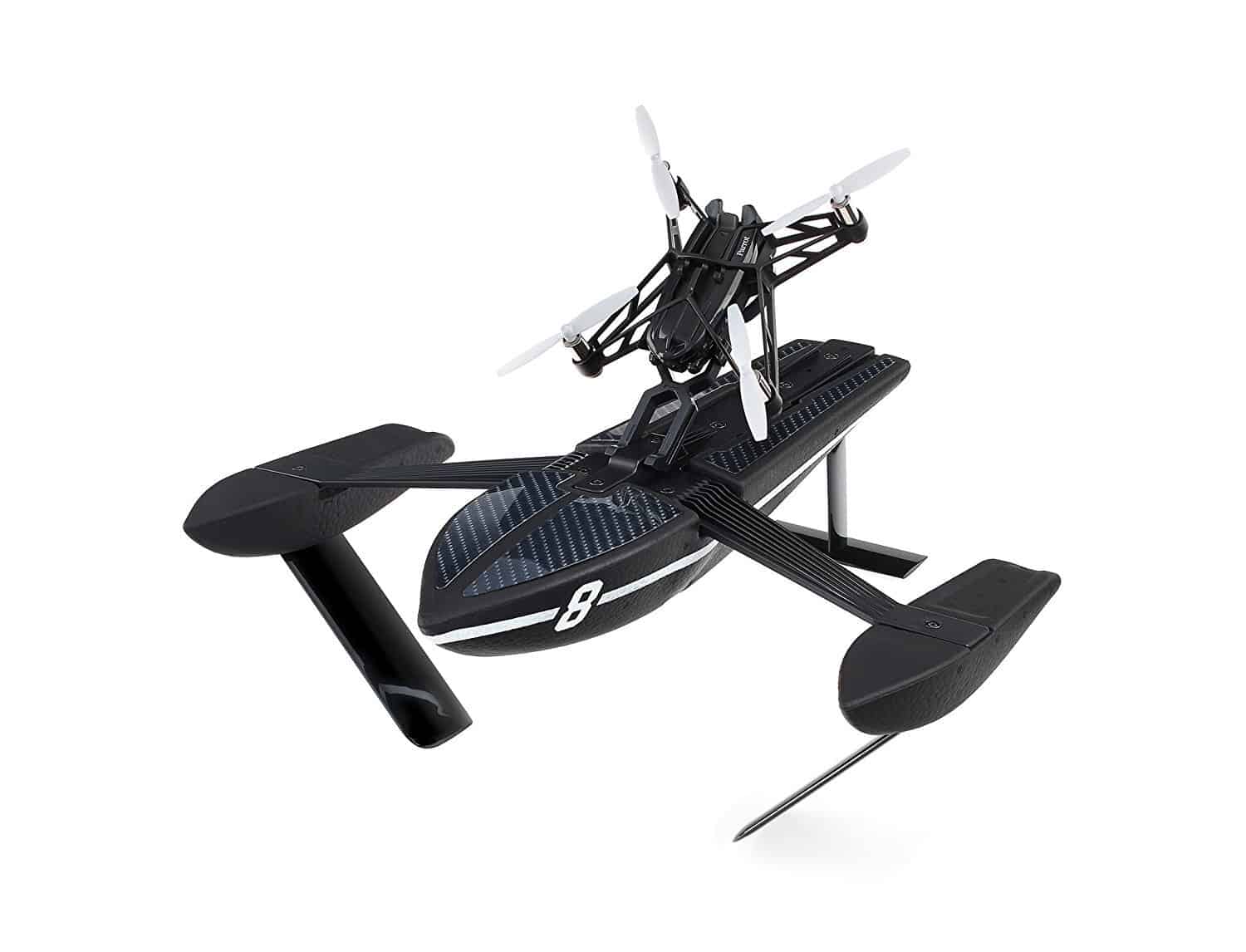 Next up on our list of the best waterproof drones it the Parrot Hydrofoil Mini. The Hydrofoil Mini is a toy grade boat-drone hybrid and is one of Parrots most unique releases to date. Simply put, the Hydrofoil is a miniature drone that attaches to a larger boat body, acting as its engine. The drone can also be used on its own as a regular mini quad copter.
The Hydrofoil is controlled remotely with a smartphone app that runs on both IOS and Android. The controls are extremely simple and the Parrot seems to respond pretty well to instructions.
The Parrot has a respectable flight time of around 7 minutes and takes just 25 minutes to charge! The batteries are also replaceable, meaning that if you buy spares, you can double your flight time.
Unfortunately, due to its Bluetooth connection has a max distance of 20 meters. This isn?t the best but as a toy grade quad copter doesn?t matter too much.
Flying separately from the boat, the drone is able to achieve max speeds of 18mph (10mph with boat) and is very steady to fly. Its extremely lightweight so can be blown around in strong gusts.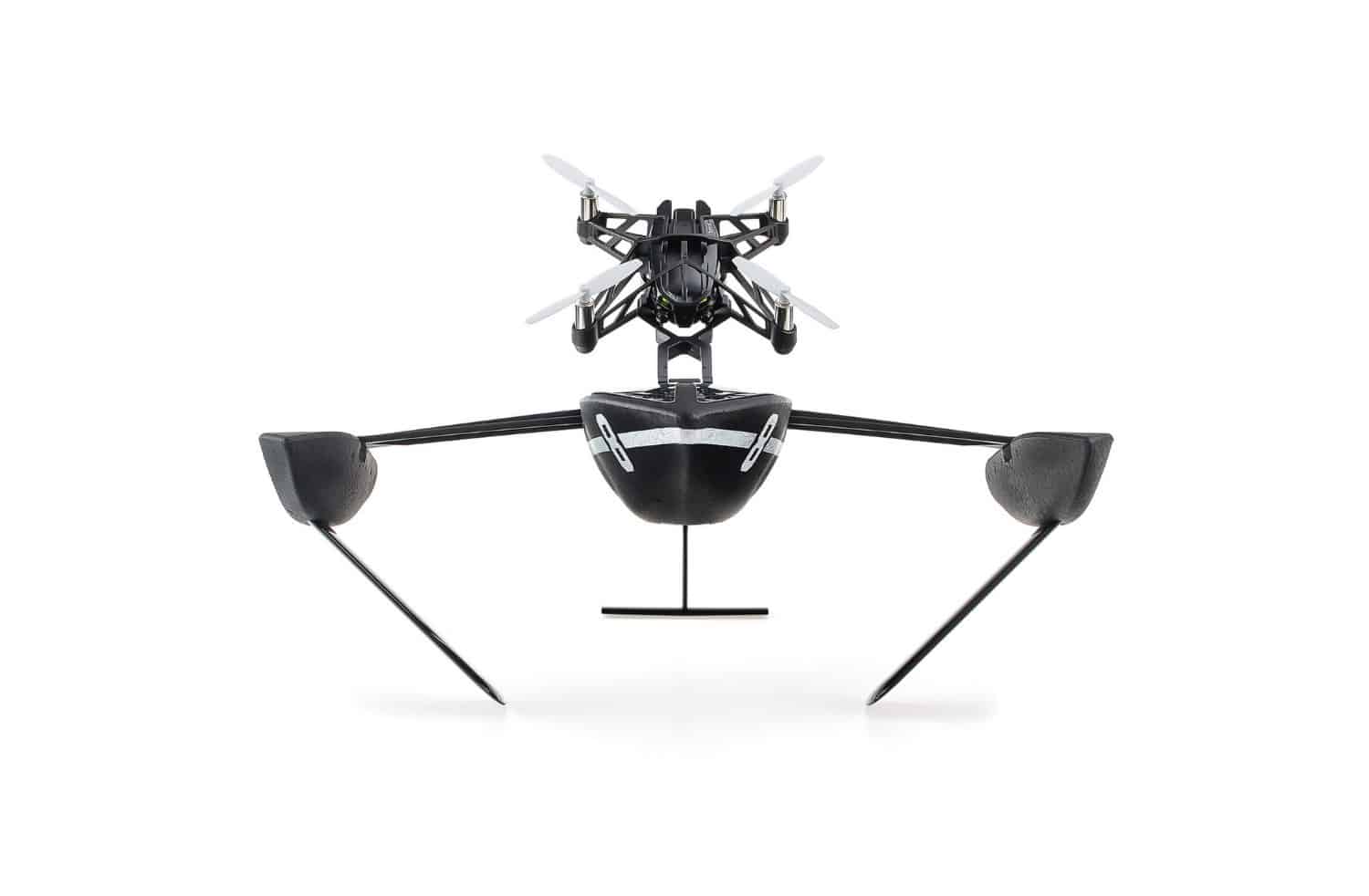 Overall if you?re looking for a unique new RC vehicle to play with over the summer, the Parrot Hydrofoil will provide you with endless hours of water and airborne entertainment.
4.) The QuadH20 Waterproof Drone
Specs:
?Flight time: 12 minutes


Max distance: 1km


Camera: action camera required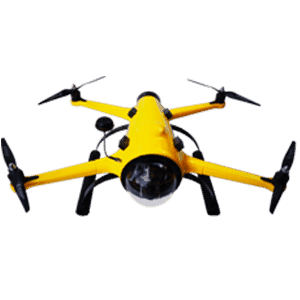 QuadH20 have made it their mission to create a drone capable of combating water, whilst providing a controlled and fun flight. The QuadH20 is built for speed and agility, reaching roaring speeds of up to 45mph; it?s the perfect waterproof drone for sailing.
With a maximum range of 1km, not only is the QuadH20 able to keep up with a boat or Jet Ski, it can film them over extremely long distances.
One of the drawbacks of the QuadH20 is its less impressive flight time of around 10-12 minutes. Although not the longest amount of time, is still enough to make this one of the best waterproof drones for professionals.
Although the QuadH20 is one of the best professional waterproof drones, it?s designed to be beginner friendly. The responsive and easy to use controls are aided by the drones? GPS positioning, meaning that it can hover in place autonomously, without swaying too much.
One of the great things about the QuadH20 is the fact that you can choose to build the drone yourself. Alternatively, you can opt in for them to build it in house to your required specifications.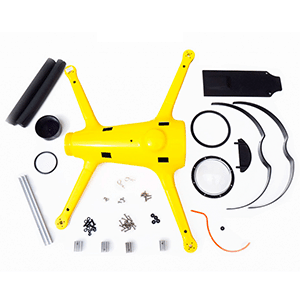 The QuadH20 has a built in on board camera which relays the footage back to the FPV monitor attached to the transmitter. An action camera such as a Go Pro is required to record footage directly on to its? SD card.
In my opinion, the QuadH20?s a fantastic option for anyone looking to invest in a drone capable of working in water. It?s now wonder the QuadH20 has achieved its reputation as one of the top waterproof drones for professionals.
5.) QuadH20 ? The HexH20
Specs:
??Flight time: 25 minutes


Max distance: 3 km


Camera: 4k


?The Hex20 is a big step up from the QuadH20 with some serious improvements. The flight time has been dramatically increased to 25 minutes and its maximumdistance boosted to 3km! That?s some serious range.
This 6-rotor beast of a drone provides 100% water protection, so no matter the weather you can take to the skies (or waters). Unfortunately the Hex20 does cost a pretty penny so it?s definitely aimed more towards professionals.
Similarly to The QuadH20, The Hex20 can come in either a kit that requires the use to assemble or be put together in house to your specifications.
QuadH20 teamed up with DJI when creating the Hex20, so you know they mean business. Implementing the DJI Lightbridge Technology for improved range and responsiveness. The quad copter is also controlled via the DJI GO app that users have grown to love for its easy to use design.
The Hex20 also features the DJI X camera and 3-axis gimbal that provides extremely smooth 4k-footage, perfect for professionals looking for a waterproof drone able to record cinematic footage.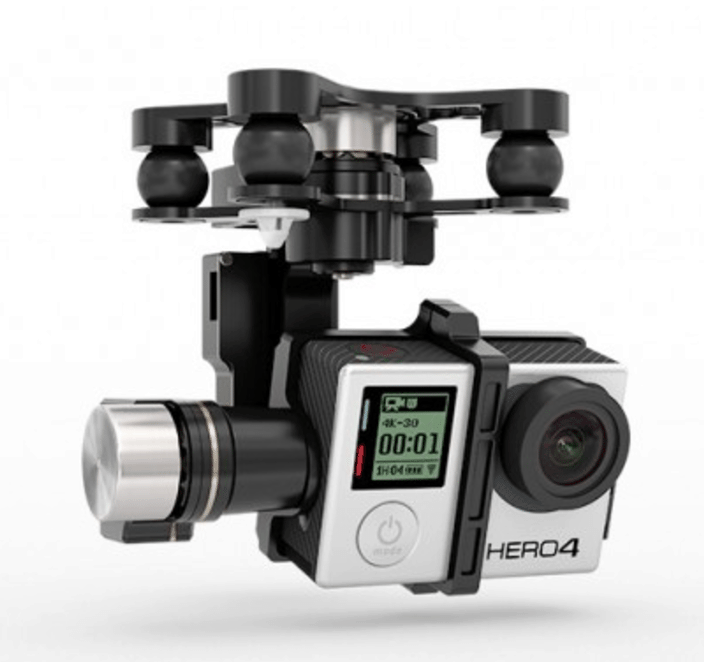 Another intriguing feature of the Hex20 is its 2KG payload capabilities that allow the drone to be implemented in extremely useful situations, such as search & rescue.
The Hex20 is an extremely well designed and highly respected waterproof drone that allows the user to record some amazing footage with their drone safe from the water. Possibly the best waterproof drone out there? What do you think?
Best Waterproof Drones Round Up
We hope you?ve enjoyed this article on the 5 best waterproof drones. If you enjoyed this, make sure you check ?our other lists of the .
As always, get in touch if there?s anything you?d like us to add or review.
The post appeared first on .